---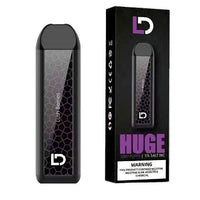 it's been a month sense it said it's been shipped and everytime I try to reach someone about it no one responds.
Lush Berries Disposable Pod (3000 Puffs) by Huge
Huge is not only one of the biggest devices but also one of the most flavorful too. The Huge device utilizes a unique patented innovative mesh coil that enhances every flavor.
This pack includes 1pc pre-filled Lush Berries disposable pod from the tasty Huge collection.
WARNING: This product contains nicotine. Nicotine is an addictive chemical.
Primary Flavors: Blueberry, Blackberry, Raspberry
Manufacturer: Huge
Brand: Huge
Nicotine Level:

 

5

%

 (50mg)